Paving the way for global expansion! 🌎 
Despite the summertime sunshine and August soon coming to an end, equally bright and exciting beginnings are in the works for Fusion Engineering! With two of our commercial team members having recently relocated to New York State for the Genius NY accelerator program at The Tech Garden, we are eager to begin laying the foundations for our future operations in North America and beyond!

Genius NY Cohort 6
Throughout the course of Q3 of 2022, our commercial team had been working tirelessly on securing the necessary resources for our technical teams to continue producing the breakthroughs we promise in our products.
Our efforts came to fruition early in August when we were delighted to learn that Fusion Engineering was among the top five start-ups to be accepted into the New York-based Genius NY accelerator program! In addition to an awarded sum of $500k, two of our commercial members will be relocating to Syracuse, NY, for one year to pave the way for Fusion's expansion into the North American market.

Commercial UAV Expo in Las Vegas
Having previously visited one of the world's largest unmanned aerial system expos as spectators, this time we will be partaking in a more active role as exhibitors! Curious to see what a Fusion Reflex looks like up close? Then make sure to come pay us a visit at booth #453 at the annual CUAV expo in Las Vegas!
Benefits of "Rust"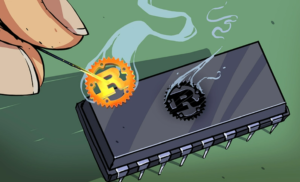 While we acknowledge that other programming languages have their own strengths, we are firm believers that "Rust" can do it better. Not entirely convinced or you would like to know more about why this is the case? Make sure to head over to our website and read about what makes "Rust" our go-to programming language of choice!
New Hires
As our endeavours grow, so does our team! We are always happy to welcome new and bright talents into Fusion Engineering. Take a look at our newest additions!
Andrea Nardi
We welcome the new graduate Andrea Nardi to our engineering team! Andrea is a recent graduate of TU Delft, receiving a grade of 9 in his master's thesis in the field of combinatorial optimization. His main priority will be working on the ground control station for the monitoring and the planning of drone missions.
Alexander Keijzer
Coming from TU Delft, we are pleased to welcome Alexander to our technical team as a Control Engineer! Bringing new ideas to the table, Alexander will be contributing to the trajectory and motion planning for the Fusion Reflex.